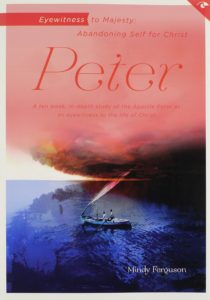 Notice: We are on summer break right now. Please check back in September for Heart2Heart updates.
"Heart to Heart" is for ladies from all walks and seasons of life who want to encourage and challenge each other as we learn from God's Word. Our goal is that through our time together, we would align our hearts more closely to our Savior's and to each other.
Join us for our Bible study on "
Eyewitness to Majesty: Peter: Abandoning Self for Christ"
. Through this study, you will walk along with Peter as an eyewitness to the life of Christ. You will watch Peter transform from Simon the ordinary fisherman to Peter, fisher of men. Peter will encourage you and inspire you. But most of all, he will challenge you to develop a deep and personal relationship with your Savior. He will motivate you to abandon self for Christ.
Throughout the year, we will enjoy service projects, seasonal activities, prayer partnerships and more!

We meet every Thursday morning at 9:30 and childcare is provided. If you have any questions please call Rachael Wilson at 443-465-2600.