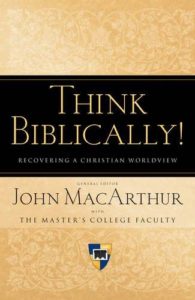 Man to Man is a men's Bible study and fellowship ministry. We meet once a month for Bible Study and Fellowship (always over food). This group is open to all adult men. Our goal is to challenge and encourage men to fulfill God's calling on their lives in their roles within the family, workplace and church.
This year we are studying "Think Biblically! – Recovering a Christian Worldview." Click on the "Upcoming Events" above to see when and where our next Bible study will be.
Please see John Wilson with any questions you may have.